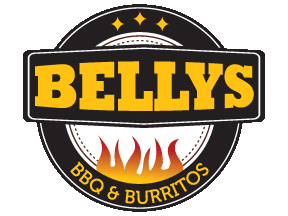 Due to Staffing,
We will be Temporarily Closed

Sorry for any Inconvenience
We TRULY APPRECIATE ALL YOUR SUPPORT!!!
BBQ has been a passion of owner Tim Brandt for many many years. In addition to his years of experience in Customer Service industries, such as Restaurants, Scuba and Swimming Pools, during culinary school, he was involved with starting a KCBS (Kansas City BBQ Society - https://www.kcbs.us/) competition BBQ Team "Nothing Butt Smoke" who won an award their first competition. He even received a KCBS Judge Certification. The team competed against other teams from across the nation and Canada, during which time he learned about BBQ styles and flavors from different regions. He also traveled from BBQ joint to BBQ joint in South Carolina, Georgia, and points north, getting a peak into their kitchens and Pits. The experiences are what formed the flavors for Bellys BBQ. From the rubbed and slow smoked whole Pork Butts to the Texas style salt and Pepper based Slow Smoked Brisket (with a light "BELLY RUB" mix), to our secret recipe of spices in our own "BELLY RUB", our goal is to serve our take on authentic BBQ favorites.
BBQ is not the only yummy items on the menu. Creative burritos using the flavorful BBQ also make the decision process difficult. He gained Burrito experience from working for Spooky Nook Sports where they had a burrito station that served thousands of people a day during tournament weekends, before he was promoted to General Manager of their new 200 seat restaurant, Forklift and Palliate.