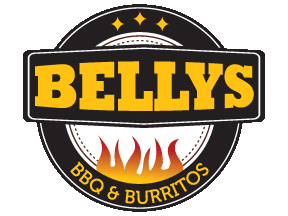 Lunch - Dinner
Specials - BYOB
Catering - Events
Large - Small
​
ON-LINE Ordering Ends 1 hour before closing time
​
*** If ONLINE ORDERING IS OFF DURING NORMAL HOURS, Please call in as we may have turned it off due to Staff Shortages**
We are a Locally & Family Owned Small business.
THANK YOU FOR YOUR SUPPORT!
We also Support Military and First Responders with a DISCOUNT!
Follow us on Facebook
and
Instagram
for Daily Specials!
​
BELLY FRIES
Seasoned with our own
BRISKET RUB!!
BELLYS - Where good food goes!
Our goal is to serve you Great BBQ and Burritos. All of our meat starts off with our very own "Belly Rub" and is slow smoked from 4 to 12 hours, even our WINGS! The finished products are FULL of flavor. But if you like sauces, we make those too! Our own Peach Habanero BBQ sauce is a crowd favorite!
Our Team is ready to serve you with a friendly smile!
Southern Style BBQ Used In Southwest Burritos!